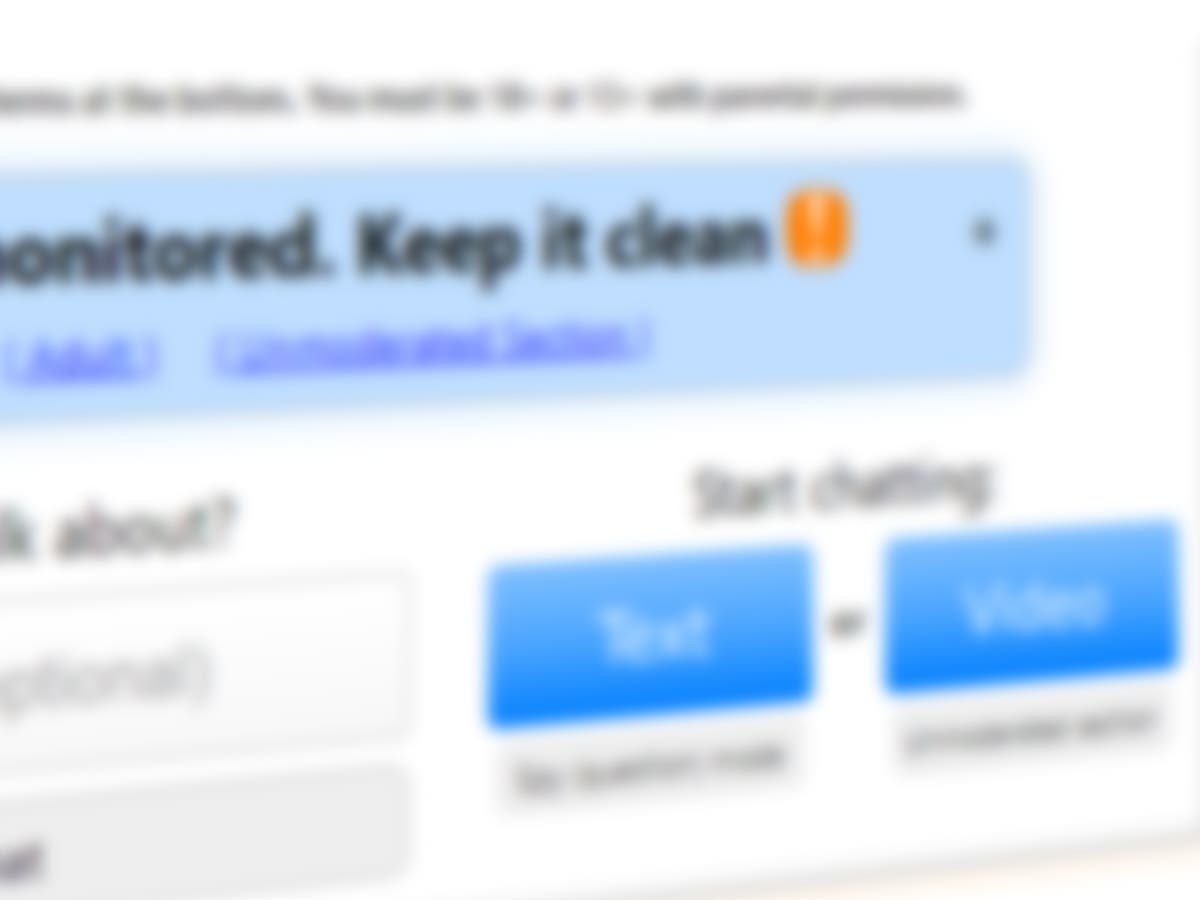 Video chatting site Omegle has come under fire following a report that indicates videos of child pornography spread on the site.
The BBC reports that prepubescent boys were explicitly touching themselves in front of strangers, as the site's popularity rose during the coronavirus pandemic.
Omegle has also become more prominent as social media influencers post videos using the website on other platforms including TikTok.
What is Omegle?
Omegle is a site similar to ChatRoulette, where users are randomly paired with others on the site.
The site has a few different iterations on it, including two messaging modes and a video chat option with an "unmoderated section".
While users are paired randomly, there is also an option to find matches based on shared interests – which the BBC found could link users up with adult material even more frequently.
What are the concerns?
According to the report, schools, police forces, and governments have issued warnings about the site in the UK, US, France, Norway, Canada, and Australia.
This is because, despite the site's disclaimer saying that users should be over 18, and that users between 13 and 18 should use the site with parental permission, there is no age verification service on the site.
The BBC reports it was paired with "dozens" of under-18s, with some under the age of 10 – with some teenagers apparently performing sexual acts.
What has Omegle said?
Omegle does not have an immediate way to contact them on the site or elsewhere online, the BBC claims.
The site's founder, Leif K Brooks, was eventually contacted through a separate company he co-founded called Octane AI.
He claimed Omegle was moderated and that it did block users who "appear to be under 13".
Brooks also said: "While perfection may not be possible, Omegle's moderation makes the site significantly cleaner, and has also generated reports that have led to the arrest and prosecution of numerous predators".
Omegle also hosts ads for pornographic websites, but Brooks apparently described them as a "classic 'life gives you lemons' situation" and that "Omegle isn't intended for prurient interests, and when adults visit Omegle with that intent, it makes sense to direct them somewhere more suitable."
The Independent has reached out to Brooks via Octane AI for comment.
Have these issues come up before?
Numerous times. NBC News reports that the site has issues with racism, documented by a TikTok trend where users film racist interactions they have had on Omegle.
This apparently included "kids live video chat", "omegle girls only kids" and "how to find kids on omegle".
Chatroulette, which came after Omegle, has also had similar issues. That site has been around for a decade, but still struggles with issues of "sexual harassment, catfishing, and generalized indecency", Input reports.
However, Chatroulette is using artificial intelligence to try and filter out unwanted content, which apparently outperforms human moderators.
What has the government said?
Julian Knight MP, chairman of the House of Commons Digital, Culture, Media and Sport Select Committee, told the BBC: "I'm absolutely appalled. This sort of site has to take its responsibilities seriously.
"What we need to do is have a series of fines and even potentially business interruption if necessary, which would involve the blocking of websites which offer no protection at all to children."
The charity Internet Watch Foundation also expressed concerns.
"Some of the videos we've seen show individuals self-penetrating on webcam, and this type of activity is going on in a household setting often where we know parents are present. There are conversations that you can hear, even children being asked to come down for tea", Chris Hughes, hotline director at the foundation, said.
He added that in 2020, there were 68,000 reports of "self-generated" child sexual abuse content, a 77 per cent increase from 2019.
Source: THE INDEPENDENT