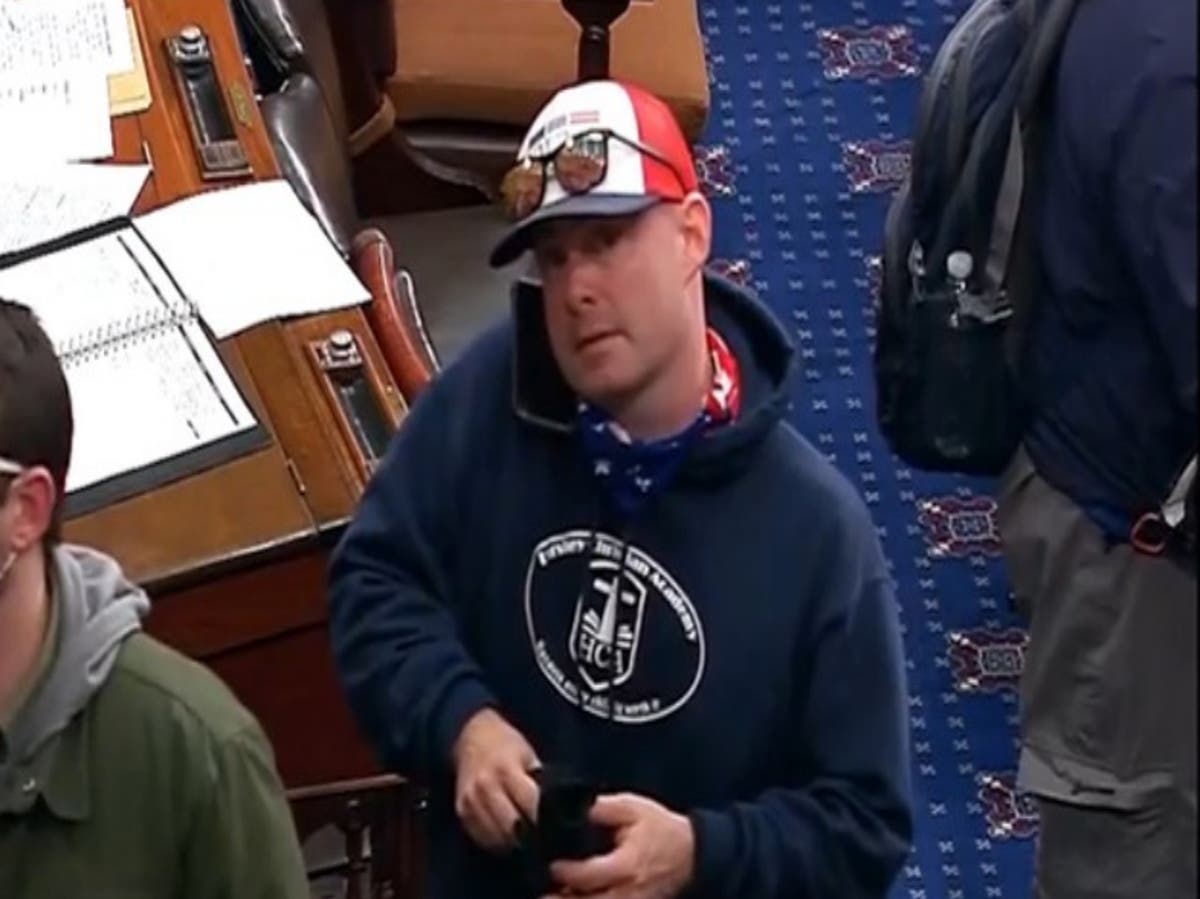 The son of prominent conservative commentator Brent Bozell has been charged in connection with the Capitol riots on 6 January.
Leo Brent Bozell IV, 41, has been accused of entering a restricted government building, obstructing an official proceeding and disorderly conduct, in a complaint unsealed in Federal District Court on Tuesday.
Prosecutors have alleged that Mr Bozell was among a mob of pro-Trump supporters who breached the US Capitol on 6 January, where five people were killed and several more were injured.
The court filing states that Mr Bozell was filmed inside the Capitol on 6 January, and includes screenshots of him on the Senate floor during the riots.
Mr Bozell, who is alleged to have been inside the Capitol without a face mask for around 10 minutes, was pictured talking on his phone and repositioning a C-SPAN camera in the chamber's gallery.
Prosecutors alleged that Mr Bozell moved the camera, "as protesters began to enter the main floor of the US Senate. By pointing the camera to the ground, the camera was unable to record protestors entering the main floor of the US Senate Chamber."
A case was opened against the 41-year-old after the FBI received three tips from people who identified Mr Bozell from footage taken outside of the Capitol.
He was partly recognised due to a jumper he was wearing that included the logo for Hershey Christian Academy, a private school in Pennsylvania, which he was the girls' basketball coach for until the coronavirus pandemic stopped games in March 2020.
Before Mr Bozell was officially identified, the school released two statements condemning the riots, calling them "unacceptable" and adding that "the person depicted in the photographs is not a board member, employee, or representative of Hershey Christian Academy."
Mr Bozell's father is the founder and president of the non-profit Media Research Centre, whose mission is to "expose and neutralise the propaganda arm of the Left: the national news media."
He is also an executive committee member of the Council for National Policy, which supports Republican activists and donors.
Despite saying he sympathised with Trump supporters, the elder Bozell publicly criticised the capitol riots during an interview with Fox News last month, calling the siege "absolutely wrong".
Source: THE INDEPENDENT